Be part of the growing movement demanding justice for Appalachia!
Learn how...
---
posted October 19, 2013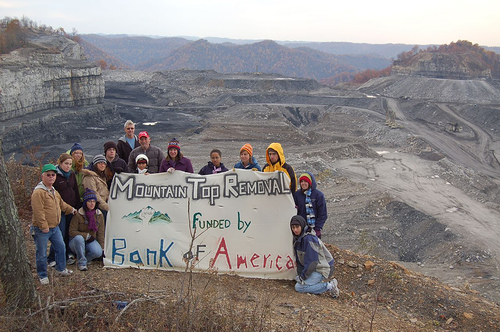 Join us in West Virginia for an action-packed weekend of workshops, trainings and action in the heart of the Appalachian mountains. You will learn about Appalachian culture and history and the long tradition of resistance to strip mining and mountaintop removal mining. You will see mountaintop removal from the top of Kayford Mountain, the beloved homeplace of the famous "Mountain Keeper," the late Larry Gibson.
Larry died protecting his mountain from mountaintop removal - now it's up to us to keep defending his home. At the Mountain Justice Fall Summit you will meet residents of the Appalachian Mountains and the Coal River Valley who are fighting to protect them, and the people who are standing alongside them.
---
posted October 17, 2013


Three weeks after the Fall Summit, check out Hands Off Appalachia's Fall Action Camp in Connecticut [UBS America's Headquarters] November 19-25.

The camp will build organizing capacity and leadership skills among anti-extraction activists in the northeast. After all the hard work and learning, we'll put our new skills into practice with a culminating action!
Expect a week of collaboration and workshops such as:
Non-violent direct action training
History of Appalachian resistance
Art in activism
Media training
and much more!
Hands off Appalachia is an urban-based campaign that targets the funding of mountaintop removal.
---
posted July 26, 2013


Four RAMPS and Mountain Justice folks took a plea deal today from the May 24 blockade of Alpha Natural Resources/Massey's headquarters near Bristol, Tenn. A video from the action is here.

Emily Gillespie, Junior Walk, Jocelyn Sawyer and Andy pleaded to blocking a roadway in exchange for the prosecutor dropping obstruction of justice. Each was sentenced to five days in jail plus a $100 fine and $116 in court costs. Additionally, the entire group was ordered to pay $3,328.77 in restitution to the city of Bristol.

Plea deal, dropped one charge and pleaded to obstruction of a public road or something like that. Obstruction of justice was dropped. Plea agreement was 5 days in jail (10 days, but way this jail is you only do half-sentence if on good behavior). Restitution to Bristol is $3,328.77, from the group as a whole. Each of them have $100 fine plus $116 court costs.

More information will be out soon so check back over the next day or so.

This action happened earlier in the same day as a Hands Off Appalachia action that targeted UBS Wealth Management, a large financier of strip mining.

This Mountain Justice post summarized the events of the day.
---
---
---
"Voices for Appalachia"
Written and Narrated by Hundreds
An Appalachia Portrait-Story Project
In early March of 2008, The Portrait-Story Project came for the first time to the Southern Highlands of North America. The results, now available for posterity have come to be known as "Voices for Appalachia - A Portrait-Story Project - Written and Narrated by Hundreds." (voicesforappalachia.org)
These portraits indicate every community that The Portrait-Story Project bottom-liners had the privilege of co-generating content with during their nearly two years of travels. Dozens of households embodied this "art-media-social phenomenon" by inviting these creatives amongst themselves, kin, neighbors and associates, supplying them with bed, board and morale for their volunteer service and then asserting their narratives upon the original drawing of themselves. As awareness of The Portrait-Story Project spread throughout Appalachia, it tended to keep manifesting, provided specific request or an explicit desire to participate, which happened by word of mouth or e-mail, and hospitality upon arrival.
On these Appalachian Portrait-Stories we have a panorama of expressions: snippets of everyday life, celebration of the land and culture and struggles for empowerment or at least survival - as handwritten by those living it. In a few cases where an otherwise able participant stated their illiteracy, a relative by blood or marital commitment volunteered to write their words for them and annotated so.
We are very proud to be able to present this body of over 500 Appalachian Portrait-Stories originals. If you have adequate interior wall space within Appalachia to exhibit the bulk of this original art and handwriting at approximately eye level, and desire this precious, unique collection for your public event, then contact United Mountain Defense; umdvolunteerhouse [at] yahoo.com or 865-689-2778.
---
There is a manmade ecological disaster of geologic proportions occurring in the rolling mountains of the southern Appalachians; its called mountain range -- or Mountain Top Removal (MTR) mining. It is the ultimate in theft of a people's heritage -- the destruction of watersheds -- and the annihilation of one of the most diverse places on earth.
---


Mission Statement
Mountain Justice seeks to add to the growing anti-MTR citizens movement. Specifically Mountain Justice demands an abolition of MTR, steep slope strip mining and all other forms of surface mining for coal. We work to protect the cultural and natural heritage of the Appalachia coal fields. We work to contribute with grassroots organizing, public education, nonviolent civil disobedience and other forms of citizen action.
Historically coal companies have engaged in violence and property destruction when faced with citizen opposition to their activities. Mountain Justice is committed to nonviolence and will not be engaged in property destruction.
We work together to create diverse and sustainable economies in Appalachian regions traditionally dominated by the coal industry by supporting businesses, jobs and ways of living that are not environmentally or culturally destructive and are nourishing to the social and biological fabric of healthy communities.
Though our work is focused in Appalachia, we oppose dirty energy and environmental injustice everywhere and we support clean energy and just economic transition for all. Seeking to eradicate, rather than simply shift, the burden of environmental injustice, MJ works to build solidarity and mutually-supportive relationships with communities where extraction and energy generation take place beyond our region. As coal becomes more politically and commercially volatile, industrial and political power-brokers are attempting to position natural gas, often sourced by hydraulic fracturing, nuclear energy, tar sands, biomass incineration, and other forms of resource extraction as clean and just alternatives.

Mountain Justice rejects this fallacy outright and supports those who resist these dirty, dangerous energy sources and also those who are working to implement truly clean energy solutions. We also recognize the native peoples who are the original inhabitants of this land. Accordingly, we seek to support the struggles of indigenous communities who are facing injustice daily at the hands of extractive industries.